---

Performer's Institute
"The best way to 'know' a thing is in the context of another discipline." Leonard Bernstein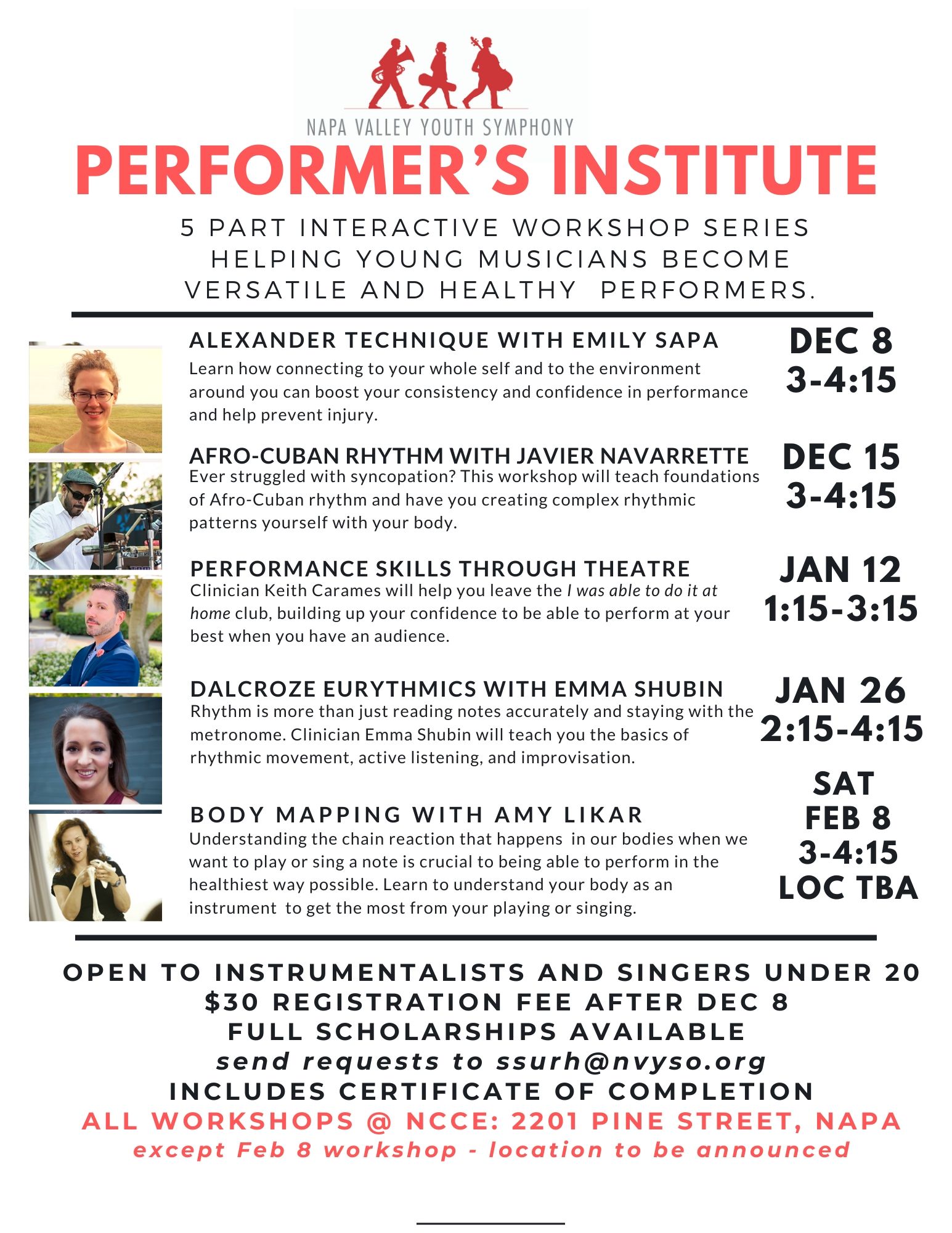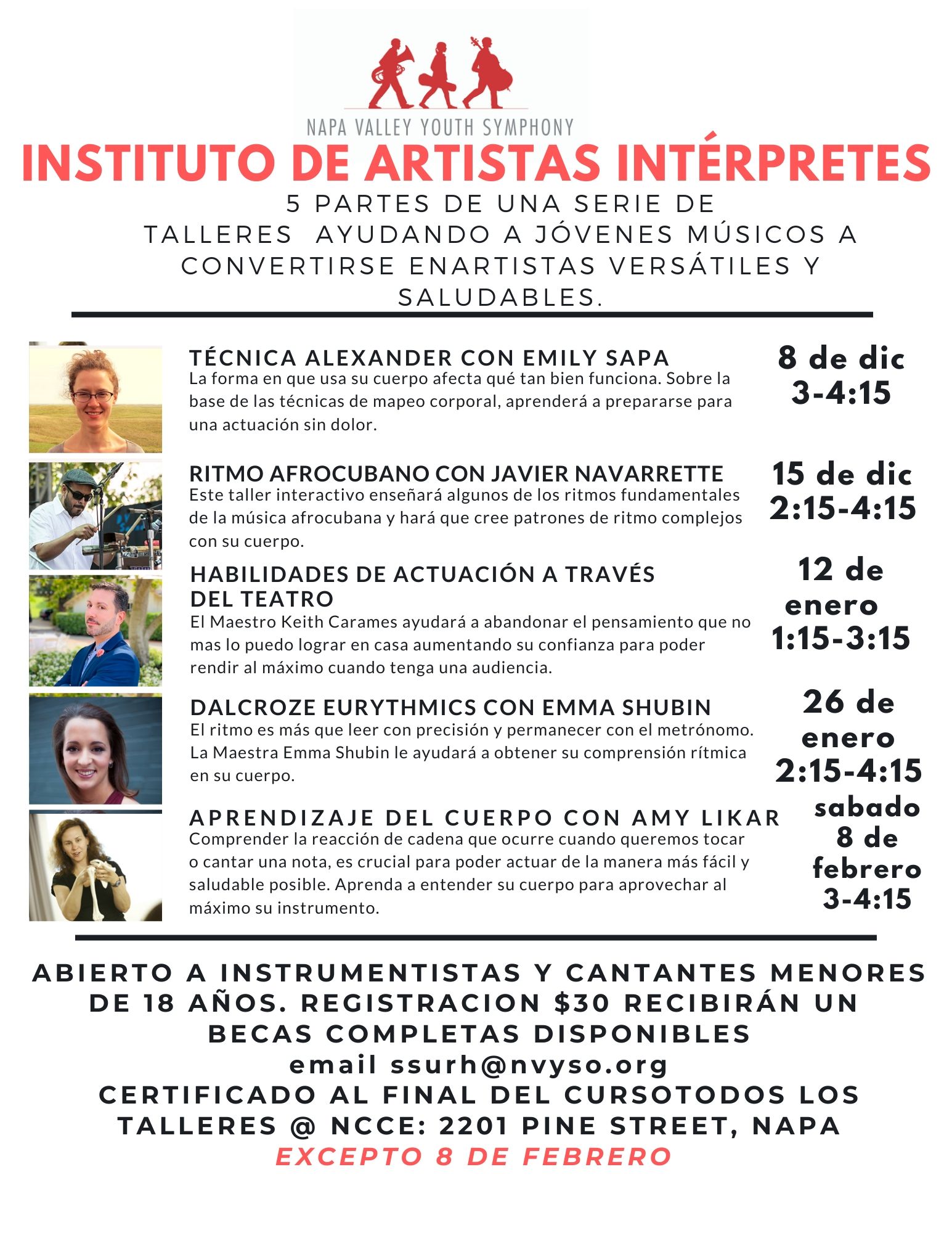 Napa Valley Youth Symphony is proud to present the Performer's Institute, an interdisciplinary five part workshop series aimed at helping young musicians become versatile, well-rounded and healthy musicians and performers. Any artist will tell you that so much can be gained from observing and participating in other art forms and disciplines. Through this workshop series our goal is to empower our young musicians to feel confident performing by helping them gain the fundamental skills that are taught in other art forms like theater and dance.
The five part workshop series includes:
Alexander Technique with Emily Sapa (Sunday, December 8,

3-4:15pm

)
Afro-Cuban Rhythms Technique with Javier Navarrette (

Sunday, December 15

, 3-4:15pm

)

Performance Skills Through Theater

with Keith Carames (

Sunday, Jan 12, 1:15-3:15pm

) NOTE NEW DATE AND TIME

Dalcroze Eurhythmics

with Emma Shubin and/or Jessica Shaefer (

Sunday, Jan 26, 2:15-4:15pm

)
Body Mapping with Amy Likar (Saturday, February 8, 3-4:15, location TBD)
Cost: $40 per musician* (Registration after December 8th is $30)
* cost should not be a barrier to participation. Please email Shelley at ssurh@nvyso.org if you would like a scholarship
Location: All workshops will held at Napa Christian Academy of Education on Sunday afternoons, except for Body Mapping (TBD).
Detailed descriptions of the workshops are below.
Performers Institute is in partnership between NVYS and the private studio of Jennifer Hunt. Upon workshop completion students will receive a certificate of completion and will be recognized at an NVYS concert.

_____________________________________________________________________________
Emily Sapa
Alexander Technique
Sunday, December 8
3:00 - 4:15 pm
Emily Sapa is a professional flutist, music teacher, and Alexander Technique teacher (M.AmSAT), active in the San Francisco Bay Area and North Dakota. She received degrees in flute performance from the University of Minnesota, studying with Immanuel Davis, and Drake University and performs in a variety of solo, chamber, and orchestral settings around the country. Emily thoroughly enjoys sharing music with students of all ages and abilities. She teaches flute at Oakland School for the Arts and Berkeley High School, participates in the Music in the Schools program with the Berkeley Symphony, and coordinates a thriving private studio. Over the course of nearly 20 years of teaching, Emily has been a faculty member of colleges, including Gustavus Adolphus College and Minnesota State University, Mankato; community music schools, including St. Joseph's School of Music, St. Paul, MN; and summer music camps, including International Music Camp at the International Peace Garden. Emily coaches chamber ensembles and has directed the flute choirs at Gustavus and St. Joe's.
Emily discovered the Alexander Technique during her musical studies and found it to be an effective way of helping her learn to release excess tension built up from years of flute playing, as well as a means to more fully liberate her tone and musicality. She completed a three-year, 1600 hour teacher training program at Alexander Technique School New England under the direction of Missy Vineyard in 2014 and currently offers private lessons and group classes in the Bay Area and Bismarck, North Dakota. She is particularly interested in working with young musicians and music educators and has given workshops for students and faculty of the Napa Valley Youth Symphony, San Francisco School of the Arts, and the International Music Camp, amongst others.
Emily is a member of the National Flute Association, American Society of the Alexander Technique, and Bay Area Alexander Technique.
Javier Navarette
Afro-Cuban Rhythms Technique
Sunday, December 15
3:00-4:15pm
For more than 25 years, Javier Navarrette has been dedicated to the study and performance of music, specializing in Afro-Caribbean rhythms. Javier has studied with masters in Cuba including Miguel Angá Díaz, Jose Luis "Changuito" Quintana, as well Folklorico Nacional de Cuba. In the San Francisco Bay area, he has studied with John Santos, Michael Spiro and Jesus Díaz.

Javier has had the honor to perform with such greats as Poncho Sanchez, Los Van Van, the "Conga Kings" (Francisco Aguabella, Carlos "Patáto" Valdez, Armando Peraza and Milton Cardona), as well as with Jon Faddis, Jerry Gonzalez, Trini Lopez, Nestor Torres, Jimmy Heath, and Bobi Cespedes. In addition, Javier has had the privilege of recording with world-renowned artists Giovanni Hidalgo, Anthony Carillo, Sandy Perez, Jimmy Bosch, José Fajardo, Orestes Vilató, Carlos Del Puerto, Dafnis Prieto, Pedrito Martinez and Andy Gonzalez. He also recorded on three Grammy nominated albums with John Santos' Machete Ensemble and El Coro Folklorico Kindembo.

More recently, Javier has had the honor to perform on stage with Jerry Gonzalez, at the John Santos Concert, "Not In Our Name" at the Brava Theater in San Francisco. He has also had the opportunity to be a guest musician for the Stanford University Big Band.

Javier is frequently involved in a myriad of projects such as the featured artist in "Proyecto de Congueros" at Yoshis Jazz Club in San Franciso, and organizing Bomba y Plena workshops and performances with Los Pleneros de La 21, Aguacero, and La Mixta Criolla as part of the "Caminos de Mi Cultura" series at the Brava Theater in San Francisco.

Javier's musical ventures have included touring with Los Mocosos, Bobi Cespedes, Josh Jones' Latin Jazz Ensemble, Hector Lugo and Cacique y Congo, to name a few. Javier is currently a percussionist with Jesus Díaz y su QBA, Anthony Blea y Su Charanga, Carne Cruda, La Mission Band, Hector Lugo and La Mixta Criolla, The Cuban Cowboys and Los Mocosos. Javier is currently working on a new project, Machina Sol, along with three other San Francisco Bay Area artists. Javier continues to create new musical ideas, in order to expand his musical knowledge. He also enjoys teaching music to the next generation.
http://www.tocapercussion.com/artists/artist/javier-navarrette
Keith Carames
Performance Skills Through Theater
Sunday, January 26
2:15 - 4:15 pm
Keith Carames is a teacher and director living in San Francisco. He received the Meritorious Achievement in Directing Award from the Kennedy Center for his work on the San Francisco production of M. Butterfly. He has consulted with Carole Shorenstein Hays at San Francisco's historic Curran Theater and has taught acting at the Tony Award winning American Conservatory Theater. For twelve years, he taught at The Ruth Asawa San Francisco School of the Arts where he served as the Head of Technical Theatre and as the Artistic Director of Main Stage Events directing such productions as Monty Python's Spamalot, Mel Brooks' The Producers, Cabaret, 42nd Street, Moliere's Tartuffe and over 20 other productions. While at the College of Creative Arts at San Francisco State University, he worked as Audience Services Director and taught both Acting and Masks & Movement.

He now works full-time at San Francisco's James Lick Middle School teaching theatre arts full time and directing the after school musical theatre productions. He consults nationally with Artful Learning Inc as part of the Leonard Bernstein Center for Education, and he independently creates professional development opportunities for DDB Health and for the City of San Ramon's Cultural Arts Day. He works with local artists to write, produce and direct several original musical revues for youth and also for adults, most notably The Barbary Coast Revue which played in San Francisco for seven months and received TalkingBroadway.com's 5-star rating as a "theatrical gem!" (Richard Connema) and Just in Case: Tales of an Immigrant Life and Anthem: Songs of Hope and Resistance, a political piece for middle schoolers that Supervisor Jeff Sheehy proclaimed was "a tremendous and courageous act of resistance."
In 2011, he was the recipient of the San Francisco Unified School District's Dream Catcher Award for Excellence in Interdisciplinary Education and in 2012 was honored by the Mayor and the City of San Francisco as one of two high school teachers of the year. In 2015, the Engineers Alliance for the Arts named him Teacher of the Year. Most recently, in May 2019, he was honored by the people of San Francisco as the only SFUSD teacher to receive two Dream Catcher Awards when he accepted the very first ever Susan Stauter Fearlessness in Arts Education Award.
Emma Shubin
Dalcroze Eurhythmics
Sunday, January 26
2:15 - 4:15 pm

Flutist, Dalcroze Eurhythmics instructor, and Suzuki educator, Emma Shubin has been joyfully making music since the age of six. She is a graduate of Interlochen Arts Academy where she studied music, creative writing, and photography. A proponent of integrative education, Emma is the co-founder and director of the Colorado based non-profit Integral Steps, which strives to bring integrative education and balanced development to individuals, families, and communities through music, movement, psychotherapy, ecology and creative arts.

What is Dalcroze Eurhythmics?
Dalcroze Eurhythmics, developed by Swiss composer, pianist and educator Émile Jaques-Dalcroze, is a unique, exciting, and powerful education in music for children and adults. Rhythmic movement, active listening, and improvisation unlock creativity, nurture imagination, and open the doors to enriched and enlivened music making. Musical concepts are explored through social and interactive games that invite the students to trust their ideas, develop their own intuitions and deepen their musical knowledge and understanding - all through the spirit of play!
Amy Likar
Body Mapping
Saturday, February 8
time and location TBD
Amy Likar, flute and piccolo, is a San Francisco Bay Area based performing and teaching artist. Equally at home in an orchestra, as a chamber musician or as a soloist, Amy is also a passionate and committed teacher of all ages. As a member of the Oakland Symphony, she is committed to the symphony's mission of classical music for all and mentors for their Music for Excellence Program and advocates for music education on a regular basis.
For almost twenty years she has been an innovator and educator for musicians' wellness as a teacher of Body Mapping and the Alexander Technique. She is the Director of Training for Andover Educators, a not for profit organization of music educators committed to saving, securing, and enhancing musical careers by providing accurate information about the body in movement.
Amy has been a soloist and guest artist at colleges and universities throughout the United States and Europe and a frequent performer and presenter at conferences and conventions throughout the world.
Amy Likar has been a Powell player for 23 years and is pleased to be a Powell Performing Artist.